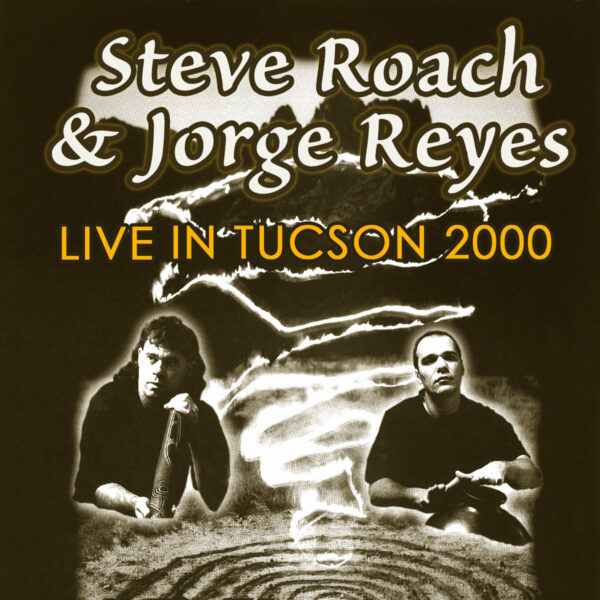 Steve Roach & Jorge Reyes Live in Tucson – Year 2000 – EP release
On May 27 2000 Steve Roach & Jorge Reyes presented their first-ever concert in North America at Tucson's Temple of Music and Art. Since 1991 they went on to present their ground-breaking tribal ambient music worldwide from such exotic locations as a theater built into a volcanic cave in the Canary Islands, to a performance space built upon a field of volcanic rock surrounded by 60 massive stone columns in Mexico City, and then to New Music festivals in Europe's concert halls and Medieval churches. Jorge who passed away in 2009 consistently performed for massive audiences at the prehispanic temples and pyramids throughout Mexico, and those who were tuned to PBS television on New Year's 2000 saw his performance in the center of Mexico City bring in the new Millennium with a global broadcast.
Roach and Reyes, together and as soloists, created a sound that firmly established them as innovators in tribal - ambient - shamanic music. Their work together has always been about capturing an on-the-edge feeling of pure emotion, mixing improvisation and compositional forms with a compelling list of instruments ranging from the Pre-Hispanic roots of Jorge in Mexico and Steve's constant innovations with electronic and acoustic instruments. Together they created a music that went beyond any category then or now. In the 90's and into 2000's a worldwide audience that understood this timeless allure would often travel thousands of miles to witness these events. They presented their live soundworlds in what was often described as a dynamic journey of music and sound, presented within a ceremonial atmosphere and raw primal intensity. Tucson's concert saw people coming from England and all over the US to be a part of this special event,
This concert was also the launch of their first joint CD - VINE, BARK & SPORE On Timeroom Editions. Their previous work is featured with the group Suspended Memories were they teamed up with guitarist Suso Saiz from Spain. they released two seminal CD's: EARTH ISLAND and FORGOTTEN GODS. This recording featured here is the opening of the concert and has not been heard in any other release until now since it was performed. The majority of the concert recording contained unrepairable technical flaws. This is what remains.
Additional information
| | |
| --- | --- |
| Weight | 2 oz |
| Dimensions | 5 × 5.5 × .25 in |