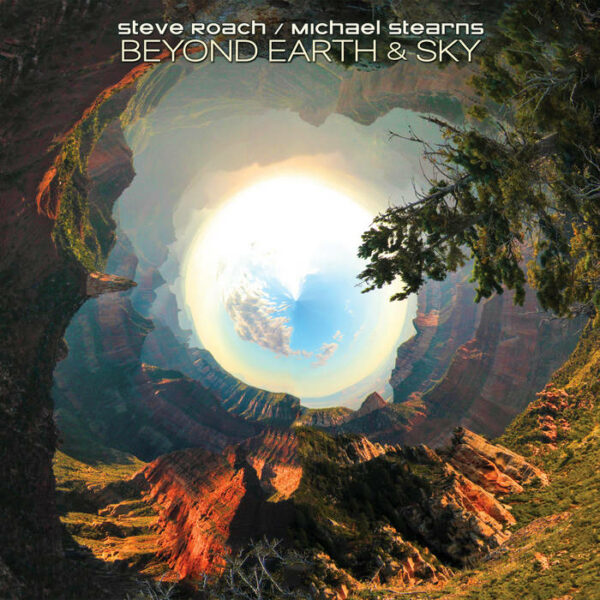 Twenty-six years after their noted collaboration Kiva (1995), American electronic music originators Steve Roach and Michael Stearns' orbits return to a point on the horizon between and beyond worlds. Their mastery of tactile sonic environments meld into boundary-defying music creating a language of transcending and transformative experiences. These seven captivating tracks are born from a devotion to the power of sound. Within realms of elemental, primordial, celestial and deep emotion, the enveloping influence found within the natural world of forests, deserts, canyons, mountains and the beyond.
"Checking in deeply after decades apart," Steve reflects, "Michael and I found we both chose to live in places away from cities, close to the natural world. The ongoing influence of the environment we live in gives us another level of going past the day to day. Out my window, I look seventy-five miles to the horizon, horizon is home. We're both at home in our element, present in one's self while focused on something far in the distance, moving towards it, pulling us out there."
The inventory of instruments utilized on this release includes The Beam (a 12-foot bass instrument with 22 strings), an extensive array of analog and digital synthesizers, vintage and current analog modular sequencers, the 6-foot didgeridoo, guitars, and more.
Meeting in Los Angeles in the late 70s, Steve and Michael lived a few blocks from each other in neighborhoods separated by Venice Blvd. They collaborated in those early days — ripe formative years of the developing American electronic music scene. As their individual lives and careers unfolded, Michael became a successful film composer, known for passionate soundtrack work on director Ron Fricke's Chronos, Baraka and Samsara, while Steve went on to create many pioneering electronic/ambient classics including Structures from Silence, Quiet Music and Dreamtime Return and now has a discography of well over 150 albums.
The two artists reconnected at Steve's performance in Santa Fe in 2019 where Michael participated on The Beam. Afterwards they spent several days together laying down basic tracks that evolved over the next two years into this collaboration.
From the moment we enter into the realm of Earth & Sky to the moment we depart it, the space beyond calls to us, guiding the unfolding of our lives. Through music we hear that call, transcending the day to day and ordinary states of awareness, Beyond Earth and Sky.
credits
released November 5, 2021
Composed, performed and recorded by Steve Roach and Michael Stearns at The Guest House - Santa Fe, New Mexico
and the Timehouse - Baja Arizona, 2019-2021. Mixed by Michael at The Guest House.
Mastered by Howard Givens and Michael Stearns
Steve – Didgeridoo, Spirit Breath, Oberheim's­ OB8, Matrix 12 and Xpander, Emu E4XT, Nord Lead 2X, Nord 3 & 4, Nord Wave 2, Korg Electribe ER 1, Roland TR-8S, Akai MPC X & Eurorack modular
Michael – Parker, Danelectro and Schecter guitars, Korg Wavestate, Nord Wave 2, Sequential Prophet X, Pedals by Digitech / Gamechanger / GFI / Hologram / JHS / Source Audio, Sample libraries by Audiobro / Native Instruments / Spitfire, Eurorack modular & The Beam
© Earth Turtle Music, BMI & Soundquest Music, BMI
Front cover by Sabrina Caswell sabrinacaswell.com
Graphic design by Sam Rosenthal ­
Special Thanks – Dwight Loop, Stan Yeatts, John Lazelle,
Paul Abell, Joy Traxler, and Linda Kohanov
Chuck van Zyl/STAR'S END 4 November 2021
Exploring ingenuities of form and mysterious pressures of feeling, Steve Roach and Michael Stearns each inhabit a distinctive zone of their own. Their joint effort Beyond Earth & Sky (71'20") is a release of discovery, for the musicians and their audience alike. A meditation on enchantment, it strives for timelessness, ascending to a rare spiritual intensity. The seven tracks focus their creativity under the regime of collaboration, and take us places we cannot get to with anyone else. From moonlit soft chords and floating synthesizer atmospheres, to dramatic tonal transitions and gradually darkening visions, the music skillfully twists and shifts - leaving listeners lost in the thoughts, memories and passions of two extraordinary talents. Sounds ebb, flow and glow as each tingling detail stimulates the mind. Vast in their proportions every musical phrase is shaped by the color of fantasy. Impressed by an enigmatic, swirling current of textures and tones - including those of the famed towering steel stringed instrument "The Beam" - we find Beyond Earth & Sky leveling itself, and waiting for the world to follow. The album is beautiful, full of commanding synth-borne harmonies, animating electro-ethno grooves, and the echo of ethereal rituals throughout. While Beyond Earth & Sky may seem not of this earth, after repeated listenings we hear that its beauty is completely of our world, and undeniably explicit. Whether meant as a travel soundtrack to accompany us to some distant planet, or within to the warmth of our own inner realm, as a work of human imagination the journey Roach and Stearns provide is retraceable - so long as we are open to the possibilities of their adventure.
- Chuck van Zyl/STAR'S END 4 November 2021
license
all rights reserved
Additional information
| | |
| --- | --- |
| Weight | 2.2 oz |
| Dimensions | 5.5 × 5 × .25 in |