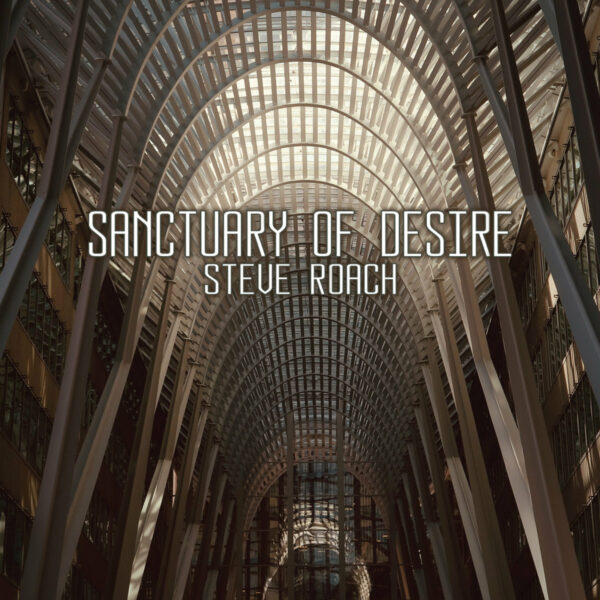 Masterfully joining the two worlds that define Steve Roach's signature styles, the 153-minute 2CD SANCTUARY OF DESIRE combines deep ambience and mesmerizing, spiral-like electronic forms in a majestic flow of stately elegance and breathtaking aural drift. Disc one explores a realm of suspended tranquility, sustained reflection and emotional resonance. Disc two soars into the mythic imagination by way of multi-dimensional mandala-like tapestries woven from Steve's mastery of analog-based synths textures, sequencer, and hovering atmospherics.
Across the nine tracks, Roach manifests a sonic sanctuary that inspires an unfoldment of one's own desires, perceptions and intentions.
"The album," Roach muses, "is a cathedral of the future built to hold and nourish the deep spirit of the creative life. It has transcendent yearning, aspiration and integration at its foundation."
"Disc one is a suspended space of deeper reflection. It's a place of many layers of meaning and interconnectivity, an environment that welcomes your highest intentions. My sanctuary of desire, on one level, is the studio space that I really love to dwell in and be in. It's the container from which this music emerges; and too, the sanctuary of desire can be wherever you're at. Simultaneously, it's also the consciousness of the heart — of the soul — of the imagination — that you weave and draw from for inspiration. It's a place that contains your own individual passion to connect with something larger than yourself. Something more timeless than daily concerns; providing protection from the outside world in order to find one's own source of renewal."
Steve continues, "There's this moment of repose that Joan Halifax calls 'the fertile darkness.' From this richness, all things can grow from your trust and surrender. Out of that comes the music on the second disc. The internal becomes action, a visionary aspect of dimensional music. As if building structures and tangible incredible forms, massive beautiful cathedrals with dynamic symmetry and balance, all held together with a stirring power. A sense of strength. It's the desire to mould something from nothing as we go deeper into life. I find it palatable, a living energy form, a living atmosphere that one can tap into. It's the sanctuary of your deepest desires, incredibly vital and powerful."
credits
ALL MUSIC BY STEVE ROACH
CREATED AT THE TIMEHOUSE, BAJA ARIZONA 2023
LINDA KOHANOV — FIVE-STRING ELECTRIC VIOLIN/VIOLA ON "CURRENTS OF DESIRE"
OBERHEIM XPANDER, OBERHEIM OB-X8, NORD LEAD 2X, 3, 4. ASM HYDRASYNTH DELUXE AND EXPLORER, YAMAHA CP33, EMU E4X, DOEPFER MAQ 16/3 SEQUENCER, LARGE FORMAT ANALOG MODULAR - SYNTHESIZERS.COM, NOVATION BASS STATION,
1010MUSIC BLACKBOX, KORG ELECTRIBES, KORG WAVESTATION, FX BY LINE 6, LEXICON, EVENTIDE
THANKS TO GLEN DARCEY FOR HYDRASYNTH SUPPORT, AARON HIGGINS FOR 1010MUSIC BLACKBOX SUPPORT AND SYNTHESIZERS.COM
SPECIAL THANKS TO FRANK BEISSEL, SERENA GABRIEL, HOWARD GIVENS, NATHAN YOUNGBLOOD, SAM ROSENTHAL AND LINDA KOHANOV
COVER PHOTOGRAPHY BY KEITH KORSGAARD
GRAPHIC DESIGN BY SAM ROSENTHAL
MASTERED BY HOWARD GIVENS, SPOTTED PECCARY STUDIOS NW — PORTLAND, OREGON
©2023 SOUNDQUEST MUSIC, BMI
Additional information
| | |
| --- | --- |
| Weight | 4 oz |
| Dimensions | 5 × 5.5 × .5 in |